MY COMMITMENT TO YOU
to use what I have learned in 23 years of practice in each acupuncture treatment.
to only offer the finest available products for detoxification, weight loss and healing chronic diseases.
to guide you in making lifestyle choices that create energy, eliminate pain and prevent disease.
through my blog, to provide honest, well researched information in the field of natural health.
As a natural healthcare provider, licensed acupuncturist and health coach, I have spent much of my life seeking effective, natural modalities to bring the freedom and joy of good health to others. This is the story of my personal journey.
THE START OF MY JOURNEY
I suffered along with my family as every adult member developed largely preventable diseases of lifestyle: Type II diabetes, heart disease, obesity and cancer. I saw them go through unpleasant procedures, take handfuls of medications and lose their functioning and the essence of who they were.
My family's health problems started my lifelong dedication to finding natural solutions. Searching for ways to help, I came across the writings of health food pioneers Adele Davis and Dr. Paavo Airola as well as the culture and tradition of soy foods in Japan. The concept of healing through diet was not well accepted at that time, but I believed it could change lives.
After graduating from West Virginia University, I opened Four Directions Soy Crafters where we produced organic tofu and other soy foods and worked to raise public awareness of the ecological and health benefits of soy.
Studies of shiatsu (acupressure) massage in California and New York  gave me more tools to unlock the body's natural energy and vitality.
During this time I became an acupuncture patient and was amazed at the relief it gave for my chronic back pain (since age eight), menstrual pain and stress.
I decided to study the vast and powerful system of traditional acupuncture and herbology. In 1989, I received my Master of Acupuncture degree from the Tai Sophia Institute of Maryland, where I later taught for ten years.
WHERE HAS OUR HEALTHY LIFESTYLE GONE?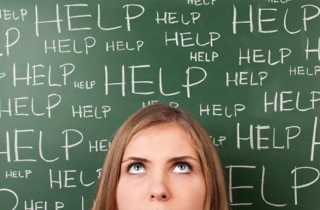 Healthy lifestyle has always been an important part of  acupuncture's healing philosophy.  But today's modern lifestyle is different from any previously experienced by humanity. Because our living conditions are so unnatural, health problems arising from today's environment do not fully respond to traditional healing approaches.
Even among my health conscious clients, I found many who struggled with obesity, cardiovascular disease, Type II diabetes, inflammatory disease, premature aging and other chronic illnesses.
I was shocked to realize that spite of all the information about diet and lifestyle we have today, there is now an epidemic of the same health issues my family suffered decades ago!
SOLUTION FOUND!

A search for solutions led me to the exciting science of Epigenetics.
Perhaps the best way to explain Epigenetics is with a story about a  mouse. Called "Agouti", this mouse was bred especially for research. It's genes caused the Agouti mouse to have a yellow coat and a tendency to develop obesity, cancer and diabetes. Just as two Great Danes will always produce other Great Danes, the Agouti's offspring are identical to their parents.
However, scientists found that when an Agouti mother received nutritional supplementation, her pups were brown and slender. When the same mother was exposed during pregnancy to Bisphenol A, a common chemical found in plastics, her offspring again were obese and yellow. The pups would even show a blend of these characteristics depending on the amount of supplements and chemicals they received.
Epigenetics is the scientific study of this interaction between environment (diet, pollution, stress) and our genes.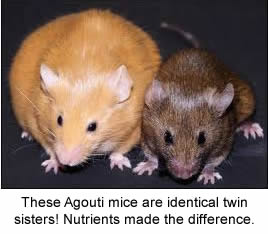 WHAT DOES THIS MEAN FOR YOU?
Epigenetic science has discovered that our inherited genes for characteristics like Type ll diabetes, heart disease and being overweight or obese are not carved in stone; they can be switched on or off.
Another new science, Nutrigenomics puts the research findings of Epigenetics to practical use.
Intensive study and research by scientists and medical professionals from many fields gathered their forces in the search for solutions.
Their research has discovered specific nutrients, foods and herbs that change genetic expression by switching off genes for chronic diseases and obesity and turning on genes for good health and longevity.
YOU now can change your health destiny.
My lifestyle nutrition and detoxification programs are based on the findings of Nutrigenomics research.
In addition to teaching healthy lifestyle I use products created by the Metagenics company, a long-time leader in discovering and developing nutritional solutions for healthy genetic expression.
These products are called nutraceuticals.  They are all natural, pure and manufactured using the same exacting standards as pharmaceuticals. The difference is they are not drugs that take over body functions.
Nutraceuticals use a wide array of nutrients, healthy proteins and herbs to enhance natural functioning and help the body heal.
These approaches are a natural complement to the traditional forms of medicine I have practiced for years.
I have found the solutions I had been seeking for so long: the ability to help my patients avoid and resolve chronic diseases and live more fulfilling lives through healthy lifestyle and nutrition.
Start your journey to better health! Call me for an appointment at 443-768-8427.
Diane Huey, M.AC., Licensed Acupuncturist and Certified Lifestyle Healthcare Provider
POST-GRADUATE STUDIES
I have studied a number of different styles and modalities to treat a wider variety of health issues.
Eight Principle Chinese Acupuncture (TCM)
Kiiko Matsumoto Style Japanese Acupuncture
Chinese Herbal Medicine
Orthopedic Acupuncture
Pediatric Acupuncture
Auricular Acupuncture for Addictions
Resolving Menopausal Disorders with Herbs and Acupuncture
Mood, Mind and Appetite
Treatment of Auto Immune Dysfunction, ADD, Infertility and other Chronic Diseases with Detoxification
FirstLine Therapy Healthcare Provide Certification
Healing Gastro-Intestinal Disorders
The Effects of Diet and Nutritional Supplementation on Genetic Expression of Hereditary Chronic Diseases
Feel better inside and out! Call me for an appointment at 443-768-8427.
Diane Huey, M.AC., Licensed Acupuncturist and Certified Lifestyle Healthcare Provider
5429 Fallriver Row Court Columbia, Maryland
The information contained herein is not medical advice, nor should it substitute for medical care.